How many times do you think 'what do I wear today?', I answer you, 'all, all time'.
But if you think it about, you'll find that the response is very easy, you need to buy basic pieces, I am talking about this 'must-have' that you need in your closet. Then, you could combine them and you know what wear all time.
Now, I let you my advice about you must-have in your closet this summer.
First,  white pants, then you could combine with solid color shirt or any print shirt. I usually have a white jeans and a white pants. Check out to my outfits, I let you a formal and informal combination. You can get 'the culotte model' or a 'straight model'. I love the 'culotte model' because it's more cozy and stylish.
Second, print pants, with flowers or stripts preferably. It is are necessary in your clothes, if you have one, you can combinate with all colors of the flowers, but in solid color. Remember the gold rule, if you wear a print color top, then you must wear a solid color down, and the opposite, at least, the prints are the same.
Third, the dresses, I love the dresses but remember that a dress is too easy to use but it is too easy to remember too. Then, you have more options with a pants or skirts than with a dress.
I used to buy a formal, a informal and a night dress. Check out to this models. A sailor dress is very useful and chic.
The first one is from Mango, 29€, the second one is from GAP, 25,5€ (with 40% off) and the third one from Bershka (19,9€).
Finally, the shorts, they are a useful piece because you can use with sandals or ballerinas, and you feel chic and modern but cozy. I let you a sailor model short and a solid color shorts. The first one is from H&M (24€),the second one is from Stradivarius and the third is from Zara (25€) and this is a skirt short.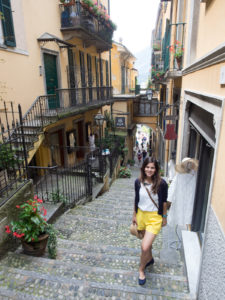 Then you will have seen that a white or cream shirt is an essential in your closet. You can combine it with everything.
I'll try to show you essential summer shoes and accessories in my next post. Remember that you can follow me in Instagram or Facebook and you can let me know your opinion in my email veratrendsonline@gmail.com.